If you want to change the color or shade of wood, you can apply wood stain over it. However, there are different types of wood stain that you can choose. With so many types, knowing which one to use becomes difficult.
The different types of wood stains are listed below.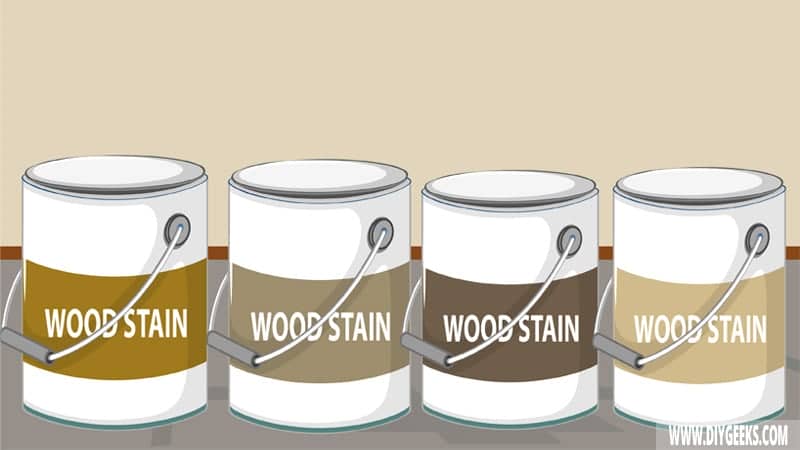 1. Oil-Based Stain
Oil-based stains are dissolved in an oily solvent, usually linseed oil or a mixture of natural oils. The presence of the oily solvent gives the stain unique features and a longer dry time.
Since oil takes longer to evaporate, the stain will take longer to dry. On average, it takes oil-based stain 3 hours to dry enough for a re-coat and 12 hours to dry fully (cure). The long dry time gives the particles more time to harden, making the finish harder and more durable.
Because of the high oily deposits, oil-based stain tends to have a darker color.
Pros:
It offers good wood protection.
Covers the surface properly with fewer coats.
It's durable and able to withstand wear and tear.
It's moisture-resistant (not waterproof).
Highlights the wood grain.
Cons:
It has a slow dry time.
Tends to turn yellow after a while.
Hard to remove.
Related Read: Wood Stain Dry Time
2. Water-Based Stain
The water-based stain has a simple formula and uses water as its solvent. Since water evaporates fast, this stain has a fast dry time. On average, you can re-coat it within 90 minutes.
The fast dry time also means the particles don't have enough time to harden, so its finish isn't durable. In addition, the water-based stain has a thin flow, so it needs more coats to cover the surface properly. However, it has a high amount of pigments, giving the wood more color.
Pros:
It dries fast.
Has a high amount of paint pigments.
It can change the wood color.
Affordable.
Easy to apply.
Cons:
It has low durability and poor wood protection.
Raises the wood fibers as it dries, causing splinters.
You can only use it indoors as it's not weather-resistant.
Related Read: Oil-Based vs Water-Based Stain
3. Gel Stain
Gel stain wood stain is a tropical finish that can be applied over bare or finished wood. That's because it doesn't need to penetrate a surface to stick; it can stay over paint or sealant and will stick there.
Gel stain is made of thickening powder, resins, pigments, and mineral spirits. This formula gives it a thick flow, making it impossible to penetrate wood pores. On average, it takes gel-stain 24 hours to dry enough before usage.
You can use it over wood types that don't accept stains, such as cherry or pine wood. These woods give a splotchy finish if coated with regular wood stains, so you must use a tropical finish, such as gel stain, to finish them.
Pros:
It can be used over a finished or sealed surface.
Protects a surface from water.
It's easy to apply.
Offers good wood protection.
It can be used over types of wood that don't accept stains well.
Cons of Gel Stain:
Has a slow dry time.
Attracts dust while drying.
Expensive.
4. Lacquer Stain
Lacquer is a quick-drying stain that gives a transparent finish. It has a high level of additives, including xylene, which makes it dry faster. On average, it takes 15-30 minutes to dry before re-coating.
You can use lacquer stain over bare or finished wood. It offers a strong, waterproof finish that protects wood from moisture, water, scratches, and other damage.
Pros:
Waterproof.
Highlights bare or stained wood.
Dries fast.
It's durable and withstands constant use.
Easy to clean.
Protects wood.
Cons:
Dries too fast, so there are fewer chances of fixing mistakes.
5. Varnish Stain
Varnish wood stain gives a clear finish and protects surfaces from water, moisture, or other damage. There are several types of varnish stains, and each type has different qualities. But, the most common type is polyurethane varnish. All types of varnish contain essential oils or solvents that make it thick, strong, and waterproof.
On average, it takes varnish stain between 24 hours and 3 days to dry fully.
Pros:
Waterproof.
Protects wood from damage.
Weather-friendly.
Cons:
It has a slow dry time.
It attracts dust while drying.
Application is time-consuming.
6. Water-Soluble Dye Stain
Water-soluble dye stains come in powdered form and must be mixed with water before you apply it. Since you can mix it with water, you have more control over what the finish will look like.
Water-soluble stain isn't durable, and you shouldn't use it on surfaces exposed to water or high traffic. On average, it takes 30 minutes to dry. This quick dry time is because the paint is water-based and has no oils in its formula.
Pros:
You have control over the color shade of the finish,
Easy to apply and dries fast.
Gives a colorful finish to the wood.
Cons:
It's not durable.
It's not water-resistant.
Doesn't protect wood from dents or scratches.
You shouldn't use it for outdoor surfaces.
7. Metalized Dye Stain
Metalized dye stain is similar to water-soluble dye stain but doesn't fade much. This stain contains metals in its formula, including cobalt and nickel, hence the name "metalized". These metals are present to reduce the fading rate and make the finish more durable.
You can use metalized dye on unfinished (or bare) indoor wood. This stain dries almost immediately after its application. That's because the stains increase the oxidization rate, making it dry faster. Since the stain dries fast, you must spray it and not brush it.
Pros:
Dries fast.
You can mix it with varnish or lacquer to increase its durability.
Easy to apply.
Affordable.
Cons:
You can only spray it.
It isn't durable and offers poor protection.