Vinyl floors have a bright appearance when installed. But, after a while, the planks become dull and start to develop stains. So, how to make vinyl floors shine?
You can make vinyl floors shine by using a commercial vinyl cleaner. The cleaner will remove the oily grime and dark stains and make it shine again. You can use rubbing alcohol or diluted vinegar as an alternative to commercial cleaners.
The best way to retain the shiny look is to regularly sweep, vacuum, and mop the floor. You shouldn't wax vinyl as the wax will be difficult to maintain, and you must buff it regularly, which can be expensive.
Why Does Your Vinyl Floor Look Dull?
Here are common reasons why this happens:
Dust and Grime
Vinyl will look dull if they are filled with filth (dust and grime). Dust and grime get on your floors in different ways. For instance, when you come home, you bring a lot of dust and dirt underneath your shoes. Also, dust can be carried by wind and settle over the planks if you open the home windows.
To prevent this from happening, you must sweep the boards regularly.
Food and Drink Spills
If you spill food and drinks on your planks, they will look dull. For instance, if you accidentally spill a glass of wine, the colorants in the drink can tint the planks if not wiped off immediately. This can leave a permanent discolored spot on the planks, creating a dull look.
Food spills can also cause staining. There have been cases where hot meals and snacks, like fresh pizza boxes, cause dull planks. In this case, the heat and steam can cause a dark-stained water spot on the planks.
Weathering Effects
The weather elements, such as UV rays, can fade the color of the boards and make them look dull. This happens to boards that are exposed to sunlight or close to your home windows.
This is why you shouldn't use them outdoors.
Marks
Scratch marks, drag marks, door marks, shoe marks, pencil marks, and other types of marks can make the boards look dull. When there are multiple marks on your floor, the marks will accommodate filth, causing the floor to look black and dirty.
Using the Wrong Type of Cleaner
The floor will look dull if you use the wrong type of cleaner. Avoid using household detergents that contain bleach.
How To Shine Vinyl Floors?
Here are two methods you can use:
Use a commercial cleaner.
Polish it.
This guide will reveal how to use both methods, how they work, and when to use them.
Method #1: Clean and Wipe The Floor
The commercial cleaner must be designed for vinyl flooring. If it isn't, you shouldn't use it. To know if the cleaner is made for vinyl floors, check its container.
You can also use a homemade floor cleaner. To make a homemade cleaner, mix vinegar (or baking soda) with warm water, or use rubbing alcohol to wipe the planks. The homemade cleaner will make vinyl floors shine naturally.
However, a floor cleaner (commercial or homemade) will only make it shine if the floor is affected by filth, dust, or stains. The cleaner will dissolve and remove the stains and make them shine again. But, if the vinyl floor is dull because of scratches or is discolored, the cleaner won't remove the dull look.
The tools you need for this method are:
A commercial or homemade cleaner
A mop
Clean rags
A vacuum
A floor brush or duster
Here's a step-by-step guide:
Sweep and vacuum the floor.
Pour the cleaner into a bucket.
If you want to use a homemade cleaner, mix vinegar (or baking soda) with warm water into the bucket.
Pour the cleaner into the floor, and wipe it 3 times.
Mop the floor to remove leftover filth and cleaner.
Leave the planks to dry
Optionally, you can use vinegar to shine the floor when it's dry.
Method #2: Polish The Vinyl Floor
If the vinyl floor color has shaded or turned white, you can polish the planks to make them shine again. The vinyl polish will revive the original and lustrous tone of the planks. However, before you polish them, you must clean them with a cleaner to remove the dirt.
For this method, you'll need:
A commercial vinyl floor polish
Clean rags
A mop
A bucket
A vacuum
Floor cleaner
Here is a guide for this method:
Sweep or vacuum the flooring.
Pour cleaner into a clean bucket.
Use the cleaner to wipe the floor – this helps to remove grime.
Apply the vinyl floor polish based on the manufacturer's instructions.
Leave the polish to dry.
Tip: Don't use wax instead of polish, and always allow the polish to dry before walking over it.
Polishing And Waxing
Polishing won't damage your vinyl floors if you use the right type of polish. To polish them, only use vinyl polish. The polish is formulated with mild ingredients that won't damage your vinyl planks.
The polish comes in liquid form, so it's easier to use and dries faster. However, you shouldn't use paste-form polish because they make the floors sticky.
Also, you shouldn't wax vinyl floors. Wax and other gel-based materials will make floors look dull. That's because vinyl is waterproof, so the wax won't be able to penetrate the planks. Instead, the wax will form a gooey substance over the planks, making them look dull and unattractive. Wax should be used only for hardwood and non-waterproof floors.
Keeping It Shiny
The shine on vinyl floors lasts a few months on busy surfaces and a few years for floors that aren't used as much.
How long the shine will last depends on the usage of the floor. For instance, if the floor is exposed to heavy furniture, foot traffic, or stains and dust, it will wash off after a few months. However, if the floor isn't exposed to foot traffic and dust, it will keep its shine for a few years (3).
Also, if you use the wrong type of cleaner, the shine won't last long because the cleaner will remove it. So, to make them shine longer, you must wipe, clean, and vacuum the floor at least once 1 week.
Here are tips to keep your vinyl floor shiny:
Clean food and drink spill immediately after they occur.
Place dust mats at the entrance to your home to collect dust and grime from your shoe soles.
Wipe and clean them regularly.
Don't use harsh cleaners or aggressive cleaning equipment.
Use rugs or carpets to absorb stains and filth.
Don't drag items across to prevent scratches.
Repair scratches so they don't accumulate dust.
Don't use vinyl planks on busy floors.
Only use polish, cleaners, and pads designed for vinyl flooring.
Final Words
You can make vinyl floors shine by using a commercial (or homemade) cleaner or polishing the floor. To make the shine last longer, you must use the right type of floor cleaner and clean and vacuum the floor at least once a week.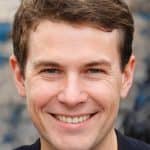 Tony is a professional painter and an author of DIY Geeks. Tony has completed over 1,000 painting projects for his clients. It's safe to say he knows what he Is talking about,